Sunday, July 09, 2017
Posted by

Matthew Lorono
at 7/09/2017 07:21:00 PM
No comments:
Links to this post


Tuesday, March 07, 2017
While running around L.A. with Allie after SOLIDWORKS World 2017, I was approached twice over the weekend in early February.
We were
queued
for a ride at an amusement part. The guy behind Allie and I got my attention and asked, "Are you in a recent movie? I feel like I've seen you somewhere." Now, if I had been such a D-list star that someone kinda recognized me but didn't know for sure, I might have been mildly insulted. But, as it turns how, I am not a star. I'm just a guy that
gets mistaken for other people
from time to time. Instead, I'm mildly amused. Sorry, no point in getting a photo with me or having my autograph.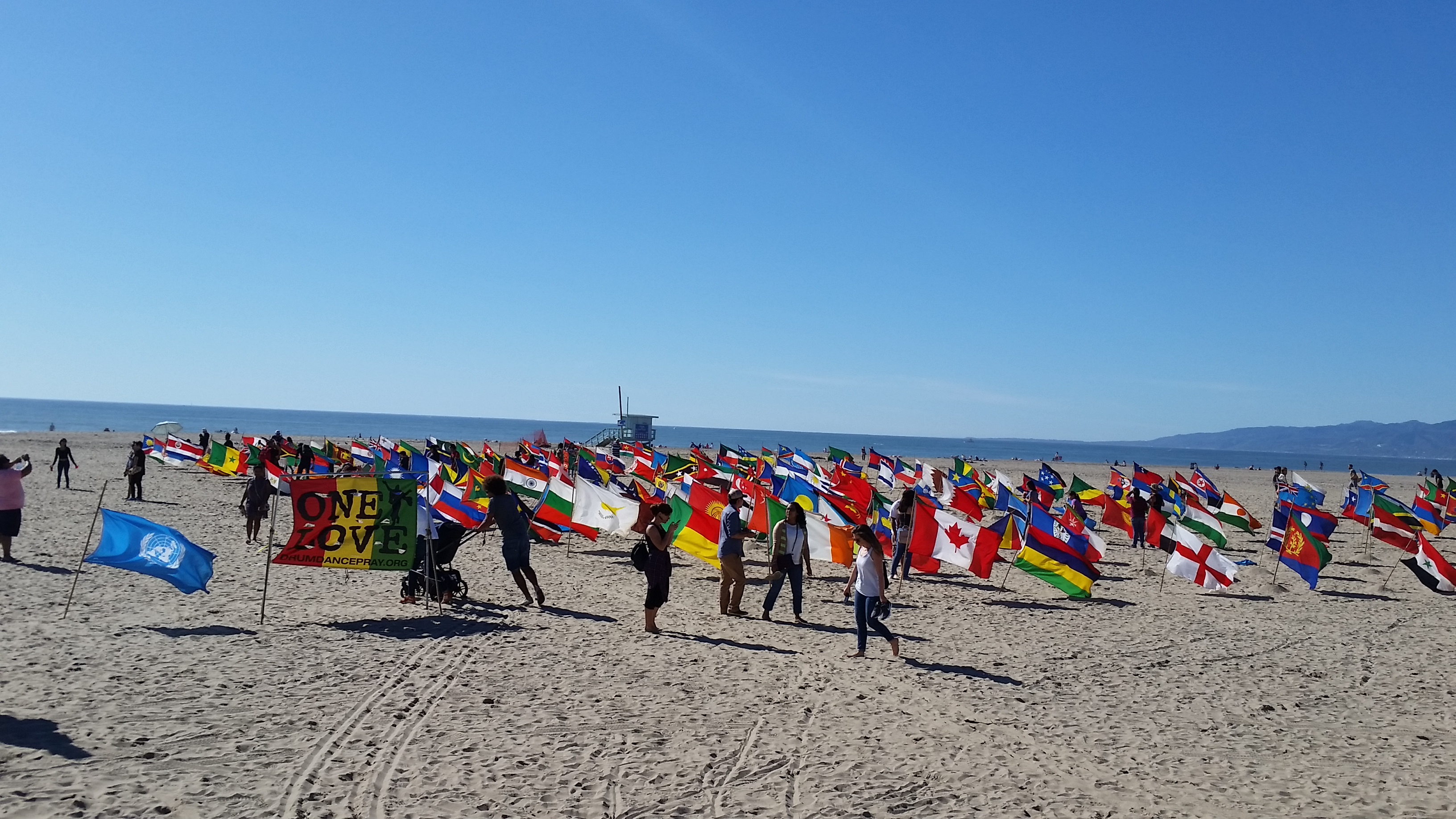 The next day, Allie and I were walking along
Venice Beach
. We had just spotted
Emma Roberts
on the walk down to the beach, but she looked busy on the phone as she rushed into a wardrobe trailer. Anyway, down on Venice Beach, this one guy road up to us on his bike. He didn't recognize me so much as he recognized the shirt I wore. It was a
t-shirt from SOLIDWORKS World 2017
. He is a SOLIDWORKS user who didn't get to go to the conference this year even though it was in L.A. The conversation was pleasant, but soon enough, Allie and I were on our way down the beach again.
Of course, as an employee of Dassault Systemes that supports the development of SOLIDWORKS products, I expect to be approached at the SOLIDWORKS World 2017 conference. However, SOLIDWORKS is well enough known that anyone wearing the company shirts or even t-shirts will be approached from time to time just for that alone. I actually try to avoid wearing the actual company shirts when travelling or attending any nonwork event. You'll never know when someone will approach you to talk shop, not that I mind all the much. It's just nice to keep the universes separate when I'm out with my wife or focused on getting somewhere.
Posted by

Matthew Lorono
at 3/07/2017 05:53:00 AM
No comments:
Links to this post


Thursday, December 08, 2016
Posted by

Matthew Lorono
at 12/08/2016 02:55:00 PM
No comments:
Links to this post


Monday, October 27, 2014
Allie and I went to the
Southern New England AAA Travel Show
this weekend at
Twin Rivers Casino
. I learned that for some types of trips, it pays to plan early but book late. Other types of trips, it pays to book early, period. Balancing flights with the rest of the trip seems to be a bit of an art form. We didn't go to the expo to book a trip. We just went for ideas...and ideas are to be gained!
There were a lot of travel vendors at the expo, and a lot of AAA agents available for booking trips immediately. One lacking thing I noted is that most of the vendors didn't have swag. The ones that did pretty much just offered candy. A couple offered pens. Eh.
Some people have goals or accomplishments where they've been/plan-to-go to every country. My sites are not so grandiose. I simply want to at least visit each of the continents. So far, I have Asia, North America and Europe. That leaves South America, Africa, Australia and Antarctica.
Friday, October 04, 2013
Allie and had a nice weekend in Portland, ME in Sept. Beautiful town with friendly people, fresh seafood and nice weather.
















Posted by

Matthew Lorono
at 10/04/2013 10:12:00 PM
No comments:
Links to this post


Thursday, January 24, 2013
Allie, I and other friends had a great time at the SolidWorks World 2013 Special Event at Universal's Islands of Adventure at night. Even though time was short, we did a full circuit of the park, enjoying the Harry Potter ride, Jurassic Park ride, Spider-man ride, Mind Eraser ride and The Hulk rollercoaster. The food was great too!
Posted by

Matthew Lorono
at 1/24/2013 08:22:00 AM
No comments:
Links to this post


Thursday, March 15, 2012
The Joke
When travelling across country late last year with my wife, I discovered a section of our hotel store at the
Grand Canyon
that was dedicated to
Dirty Jobs with Mike Rowe
. There was a foam board cut out of
Mike Rowe's
image. To joke with my wife, who loves Mike Rowe but who never found her way into the store, I took a photo of me with the 2D cut out. The joke turned out to be so little, Allie forget all about the photo within a couple of days.
Irony a few months later
In a bit of irony, I actually did meet
Mike Rowe at SolidWorks World 2012
earlier this year. Yes, he graciously took his photo with me. Can you tell which is the real Mike Rowe?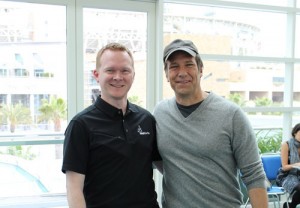 SolidWorks World 2012
is a design conference dedicated to
3D CAD
related products and services for engineering and similar fields. The conference happened to fall on
Valentine's Day this year
. It was in San Diego. This means, I (and many attendees) were away from our spouses on Valentine's Day. I asked
Mike Rowe
if he would write a Valentine's Day message to my wife (an autograph written to Allie). He signed my conference badge. I'm not going to show it here because its my gift to my wife. It is an autograph that will never be sold, and it's up to Allie to show it off!
I thanked Mike Rowe a bit too much and then told him that my wife and I have been fans since he was on
Evening Magazine
in the San Francisco Bay Area. He looked at me surprized, if not a tiny bit consternated.
On Stage
On stage at the conference, Mike Rowe talked about the need to bring recognition and honor back to the blue collar trades (plumbers, electricians, etc). He founded
mikeroweWORKS
for this purpose and to help people connect with each other in the trades.
Monday, March 12, 2012
Day 7 of our Alaska cruise was highlighted by a visit to Victoria, British Columbia. Many people don't realize that the name Columbia was used by our North and South American forefathers to name a bit of land that they really didn't have a name for. Columbia is the "poetic" name for the Americas. There's also Washington, District of Columbia (Washington, D.C.) and the actual country of Columbia.
Victoria is a very nice city with many interesting buildings, good food and they freely take U.S. dollars (1:1 with the Canadian dollar these days).
My In-laws liked it a lot. We had a relaxing time, just walking around without too much of a schedule to worry about. We had a great dinner at a local steakhouse. There was this Celtic themed store with some of the highest quality clothes I've seen (and the prices to match). I even have a video around somewhere of Darth Vader playing the violin (street performer).
The vibe in Victoria is definately different than Vancouver, B.C.
One of the reasons we chose to take a cruise with Norwegian is that the cruise starts and finishes in Seattle, WA (within the borders of USA). Many cruises start in Seattle, but then end in Victoria. That means we'd have to take an international flight home; a painful experience which I am always more than happy to avoid.
So, even though Norwegian wasn't everything we expected it to be, it was everything it needed to be. I guess that's not a great endorsement, huh.
Overall, the trip was enjoyable. Some pluses (many of which cost more $$$) and some minuses (many of which were part of the cruise package for no additional $$$). We did our trip to Alaska. We did our first cruise (and prolly last, at least for a long while). We took my In-laws on a big vacation and had a lot of quality time with them. And, I got to see my best friend and his family before and after the cruise.
Please see the full
Alaska Cruise article list
.
Posted by

Matthew Lorono
at 3/12/2012 06:43:00 PM
No comments:
Links to this post


Wednesday, February 15, 2012
Day 6 of my family's Alaska cruise was marked by a visit to
Ketchikan
. Suprizingly enough, we didn't spend much time in Ketchikan itself. Our excursion took up almost all of the time.
I did the
ziplining
canopy tour in the rainforest. By an amazing coincidence, Allie took her parents on a nature walk excursion that was run by the same operation on the rain forest floor. So, while I was zipping around overhead, they were walking on a guided tour below. Allie said she kept an eye out for me, but we weren't in the same part of the forest at the same time.
They got to see a bald eagle, owl, bear markings on a tree, a canoe being made (in progress, not from start to finish), and other natural or native items.
I was zipping around the canopy with a group of people, most of which have never ziplined before. It was a lot of fun. I haven't developed the photos from this adventure on my disposal camera yet. Hopefully the film is still good after all this time (2 years). I do have this shot taken by an automatic "ride" camera.
Note the gratuitous fist pump. :)
The excursion took up so much time in the trip to a from the dock and on the adventure itself, we didn't get a chance to check out anything in the town of Ketchikan itself.
Please see the full
Alaska Cruise article list
.
Posted by

Matthew Lorono
at 2/15/2012 09:35:00 AM
No comments:
Links to this post


Thursday, January 19, 2012
The cruise ship itinerary listed this day as a Sea Day. A Sea Day is when the ship doesn't dock at any port. The other Sea Days on this cruise were only of the ship moving fast through the ocean to get to one of the ports. However, this Sea Day is different.
We made the journey up the Glacier Bay to visit the impressive
Johns Hopkins Glacier
. Along the way, we saw dolphins, whales, cliff dwelling goats, and eagles, all from our cabin patio.
Before arriving, everyone was asked to keep as quiet as possible, so as to not disturb the glacier. Once at the glacier, the port side of the ship was first to view it. Of course everyone was on deck, watching and waiting for the slightest signs of
calving
.
The moment reminded me of Hitchhiker's Guide to the Galaxy in the book Restaurant at the End of the Universe. In that book, there's a restaraunt at the literal end of the Universe. People from all over the Universe would go to this restaraunt at the end of time to watch the last bit of the Universe fade into nothing. It felt kind of like that on the cruise ship. People from all over the World go on this cruise to the end of Glacier Bay to watch one of the World's remaining glaciers slowly melt away. I actually was hoping for global warming to work just a little faster so I could see more dramatic scenes of ice breaking off and crashing into the water.
There was a solo seal swimming around in the cold bay water at the root of the glacier. I assume the little guy was busy hunting for food amongst the chunks of ice floating in the water.
The ship then slowly and quietly rotated around so that the starboard side also got a view. Allie's parents relaxed on their patio at this time, along with me and Allie in our own patio next door.
Once we left the glacier, the cruise ship went on a tour around other portions of Glacier Bay. At one point, off in the distance, I saw one glacier with a massive calving of ice crashing into the bay!
The ship later headed south. Allie and I relaxed in the spa at the front of the ship. Several of the reclined chairs faced foward so we could kick back and watch the ocean pass by. We saw more dolphins and some sort of fish that was jumping out of the water.
Seeing Glacier Bay was my main purpose for this trip. Cruise ships are really the only way to see this amazing place for the average person (unless you happen to have your own boat and know how to navigate the World's seas).
Please see the full
Alaska Cruise article list
.
Posted by

Matthew Lorono
at 1/19/2012 09:41:00 PM
No comments:
Links to this post